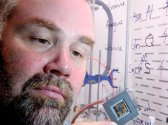 For chemistry prof, the excitement of exploration
Heinz-Bernhard (Bernie) Kraatz has been obsessed with chemistry ever since he received a chemistry set as a child growing up in Germany. Now he's a professor in UTSC's Department of Physical and Ennvironmental Sciences, exploring new ways to diagnose and treat disease.


more
Computer test detects driver fitness
Research at UTSC could help create a simple computerized test that will help aging drivers determine if it's time to stop driving.


more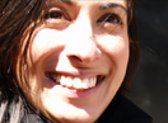 Mahtani wins prestigious geography award
Minelle Mahtani, a UTSC associate professor of geography, won the Glenda Laws award for outstanding contributions to geographic research on social issues.


more
UTSC students win Cressy Awards
Fifteen UTSC students were awarded Gordon Cressy Student Leadership Awards in recognition of their volunteer activities.


more
Westoll wins Charles Taylor Prize
Andrew Westoll won the Charles Taylor Prize for Literary Non-Fiction for his book The Chimps of Fauna Sanctuary.


more
Athletes honoured at banquet
Over 300 students, alumni, staff and faculty were recognized for their outstanding contributions to the athletic and fitness programs at UTSC.


more
UTSC grad earns co-op student of the year honour
Recent UTSC graduate Valerie Aguiar was awarded the 2011 Education at Work Ontario (EWO) Co-op Student of the Year award.


more
Grad student wins environmental award
Dean Koucoulas won the Cathy Orlando Award for Environmental Stewardship.


more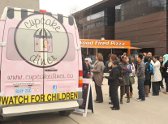 Food truck frenzy engulfs campus
For one day only UTSC unbuckled, indulged and celebrated its love of mobile food. The event, called Food Truck Eats - U of T Edition, welcomed four food trucks to UTSC on March 29 offering a wide range of culinary delights for campus foodies to indulge.


more
An exploration of Muslim-Canadian identity
Combating stereotypes while exploring the Islamic identity was the aim of a week-long celebration hosted by the UTSC Muslim Students' Association.


more
UTSC's WIDEN series tackles subject of 'work'
Speakers traded ideas about the role of the artist, housework and gender, and the future of professional movie critics in UTSC's second WIDEN talk.


more
She rolls up the rim, she wins!
Deborah Hahn, the new assistant director of retail and conference services, got a pleasant surprise at Tim Horton's last month -- a brand new Toyota Camry.


more